Lisbon Music Festival NOS Alive, formerly Optimus Alive, is happening eveyear in July. It's the leading music festival in Portugal and has caught the rest of the world's attention due to a single combination of an eclectic line up, warm weather and unique coastline location.
It's very easy to go from the hostel to the festival, which is by the river Tejo. You just need to catch the train to Cascais and step out in Algés.
For more information, check the official site: www.nosalive.com/en/
See you there!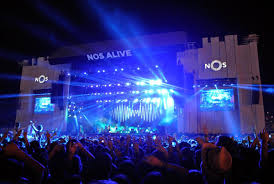 ---